HyperNet Telecommunications has partnered with the leading technology companies, giving you the best the industry has to offer in digital and managed service solutions. We can supply services from Nextiva, AT&T, Comcast, Lumen, Nitel, Verizon and others.
Put Our Relationships To Work For You
Nextiva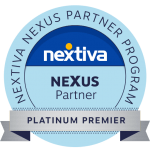 is the fastest growing unified communication provider in the U.S. and serves more than 100,000 business customers. Since 2006, Nextiva has maintained its focus on simplifying the way businesses communicate. Through a combination of communication, collaboration and mobility solutions, Nextiva helps companies of all sizes and industries run more efficiently and increase productivity and profitability. HyperNet Telecommunications is a certified Platinum Premier partner of Nextiva and is authorized to resell their products and services.
Telarus. As a channel partner of Telarus, HyperNet Telecommunications can manage customer locations on the East coast — or anywhere in the Continental United States.
Telesystem empowers businesses with a range of innovative network, communication and cybersecurity solutions designed to address their specific requirements for performance, security and cost. Telesystem works alongside partners such as HyperNet Telecommunications to design reliable and flexible communication solutions to address each business's unique requirements. Learn more
Nitel offers a robust portfolio of service offerings – from SD-WAN to managed security services – to custom designed dynamic network solutions that are efficient, reliable and cost-effective. For any challenge and every client, our partnership with Nitel allows us to find the best solution for you.
Leverage the HyperNet Telecommunications relationship with these and other industry leaders to insure that your business infrastructure is effective, safe and secure.
HyperNet Telecommunications, LLC
A Veteran & Women-Owned Business

Serving DE-PA-NJ-MD

(844) 613-3154